Druskininkai
Druskininkai is the southernmost town of Lithuania, about 130 km from Vilnius and Kaunas. It is the oldest and the biggest resort of the country famous for its salty springs and mild and warm microclimate.
Druskininkai is the international resort for active recreation and treatment, which is aimed at the wide spectrum entertainment industry with its highly developed modern service infrastructure.

Medical SPA "Egle 3*"
Today Medical Spa Eglės Sanatorija is the largest medical spa not only in Lithuania, but the entire Eastern Europe as well. The medical SPA ,,Eglės" sanatorija is open all year round and is capable of accommodating over 1,100 people every day.
Medical SPA ,,Eglės" sanatorija , which has a long tradition of therapy, is a therapeutic and rehabilitation center with the mineral water and therapeutic mud health care facilities, therapeutic and diagnostic premises and a mineral water pump-room. Therapeutic mud and mineral water from the medical SPA ,,Eglės" sanatorija own resources are used for the procedures, performed by experienced medical SPA ,,Eglės" sanatorija specialists.
At the health care facilities of the medical SPA ,,Eglės" sanatorija   you will be offered over 100 different kinds of massages, treatments, and preventive mineral water, therapeutic and white mud, kinesitherapeutic, physiotherapeutic and psychotherapeutic procedures.
Mineral water, therapeutic mud, and physiotherapeutic procedures are applied at the health care facility, where you can also find the kinesitherapy hall, as well as the complex of pools and baths. In order to perform a general examination of your body, diagnostic procedures are also offered at the medical SPA ,,Eglės" sanatorija . There are electrocardiography, sonogram, veloenergometry, rectoromanoscopy, gynaecological and other facilities, as well as facilities for manual therapy, diabetical podiatry, and clinical and biochemical laboratories.
Location: Druskininkai, 10-15 min walk to the center, in a pine forest. There is a small pond, beach, bike paths.
Accommodation: Six residential blocks named Eglė and Žilvinas. There are 229 single rooms, 400 double rooms, 32 two-room suites and 8 one-room suites with mini kitchen. In the Medical SPA ,,Eglės" sanatorija there are also 18 double rehabilitation rooms for the disabled.
Room categories: The rooms are classified as standard single rooms, standard double rooms and suites. The rooms have a balcony, a shower and a WC, cable TV, a telephone, an electric tea kettle, and dishes.
Meals: Food is varied, served three times a day: rich buffet and balanced dietary menus.
Services: A pharmacy, a dentist's office, a hairdresser's salon, a cosmetics salon, a bank, an ATM, an individual safety deposit boxes for your valuables, a newsagent, pay phones, a department store, cafés, a library, dancing, cinema and concert halls, secure paid parking lot, Internet (in the library and in all the suites), a complex of bath and pools, a gym with exercise machines, billiards, bicycle hire.
Procedures: Baths (mineral, carbonic, iodine – bromine, pearl, pine, four-chamber vortex, c herbs, mud); soul (struevoy, intestinal), mud (applications, gynecological, rectal swabs, elektrogryaz); massages (classical, underwater, dry, pnevmanichesky, rhythmic, total); physiotherapy (in the hall, a swimming pool in a vertical bath with gym, velotrenirovaki, occupational therapy, hydrotherapy, stretching the spine, kinezeterapiya); inhalations, halotherapy (salt room), microclyster, hydro gums, psychotherapy individual, group, music, gipnozoterapiya; gynecological mineral irrigation, microwaves, electrical stimulation of lymph circulation, ultrasound, magnetotherapy, magnetolazer, diadynamic, amplipulse (CMT), ioptron, laser irradiation of blood, electrophoresis, UHF, inductothermy, darsonval, quartz, quartz tubusny, onoforez.
The price includes: accommodation, food three times a day – a buffet, 5 procedures per day, doctor consultation on arrival. Guests staying in a suite can use the complex of pool and baths of the sanatorium for 1 hour free of charge (on Tuesdays, Thursdays and Saturdays).
Price per person per night (EUR)
42 EUR / pers
Wellness center "SPA VILNIUS Druskininkai 3*"
The SPA VILNIUS is one of the biggest and probably the best equipped wellness and mineral water SPA centre in Lithuania. This original leisure and wellness center which could also be called the oasis of health and beauty has a four star hotel, a SPA, conference centers, a restaurant, a SPA bar and a shop.
The SPA VILNIUS is a modern multifunctional complex for your accommodation, treatments, wellness, beauty and leisure. The excellent service, quality, cosy atmosphere, caring staff and lovely environment will help to improve your physical health and pamper your soul.
Scandinavian-style hotel is a fine choice for those who appreciate comfort, friendly and cosy atmosphere and those who like to be taken care of. In a hotel restaurant you can enjoy live music concerts and parties.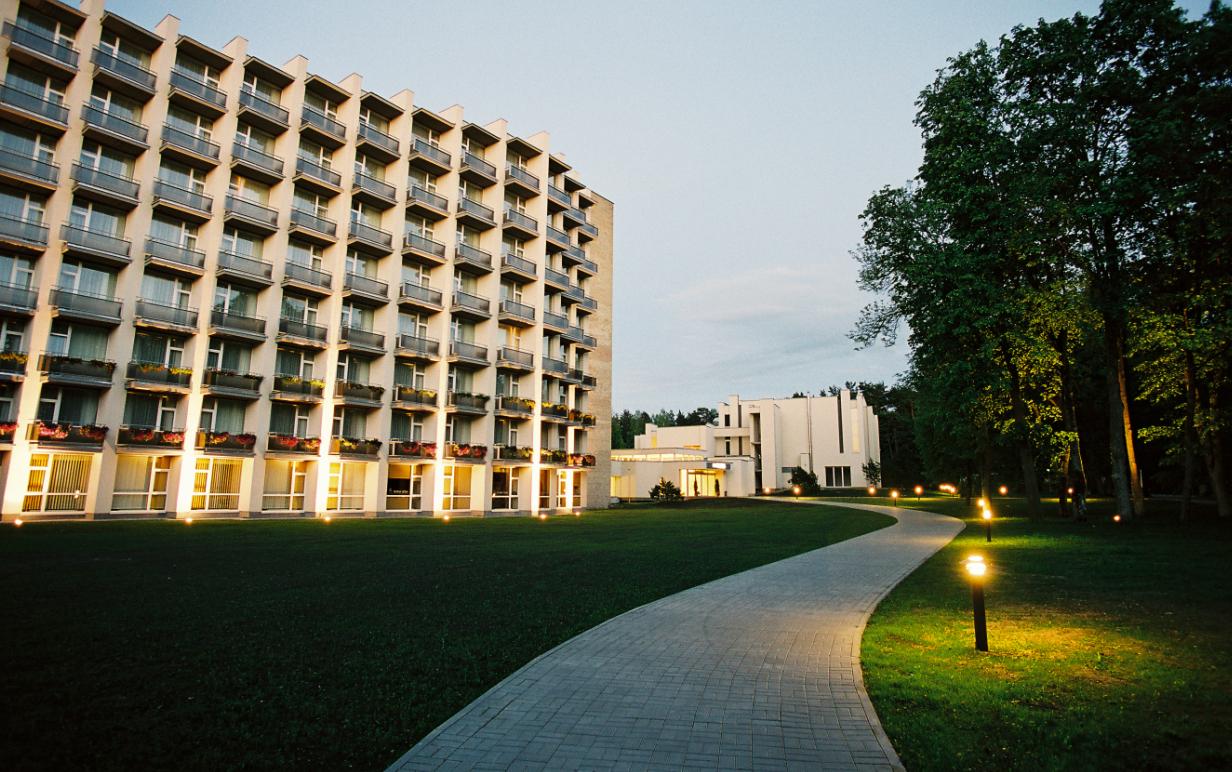 Location: in a quiet place in the center of Druskininkai health-resort. Nearby is a wellness park, Ratnycele stream, and a pedestrian parkway.
Accommodation: there are 167 rooms in hotel: single, double / twin, standart+, deluxe, studio, junior suite, suite & family suite. Most of them are very functional and comfortable even for the bigger families. All hotel rooms have stunning views of lush greenery of Druskininkai resort. Each room has a interactive TV, 4 radio channels, Wi-Fi, direct dial phones, a workdesk. There is a bathrobe and sllipers in the bedroom. Mineral water 'Rasa' in the room (arrival day). In the bathroom is a shower, shampoo, shower gel, hairdryer and there are towels.
Meals: three times a day – buffet. In the VIP lounge you can order a romantic dinner. On the recommendation of a doctor – diet food.
Services: there is a restaurant, the SPA bar and "Atlantida" leisure centre café. Visitors will be able to play bowling, billiards (pull and Russian billiards), darts, Nintendo Wii. Cosmetic services, solarium, souvenir shop, ATM, security service, 10 conference rooms equipped with multimedia, equipment for translation, games for children, a modern security system.
Health program (minimum 3 nights)
The price includes: accommodation, meal options: HB or FB, doctor`s consultation (20 min) and development of an individual wellness package (2 treatments per day, one from each list), a daily visit to a training hall (60 min), a daily visit to the swimming pool and sauna (90 min), a daily drink of natural mineral water "Health" at SPA VILNIUS mineral water pump-room, bathrobe and slippers, WiFi, the parking, musical program in the restaurant (on the weekends).
Possible treatments:
I LIST: MASSAGE (30 MIN): Classic back; Relaxing back; Head, neck & shoulder; Japanese Shiatsu acupressure for feet; Japanese Shiatsu head & face; Chinese acupressure feet; Hemolymphatic for arms
II LIST: BATH (15 MIN.): Mineral water; Mineral water "Salty"; Mineral water "Vilnius". OTHER TREATMENTS: Halo chamber (30 min.); Amber-aroma-music therapy (60 min.); Harp therapy (in russian, 35 min.); Oxygen therapy (20 min.); Group kinesitherapy (30 min.); Inhalations with mineral water (10 min.); Inhalations with mineral water & calendula (10 min.); Inhalations with mineral water & propolis (10 min.); Pilate's workout (30 min.)
Price per person per night (EUR)
70 EUR / pers